Brand New Thermomix TM5 Boxed Up - Brakpan
Monday, 25 July 2016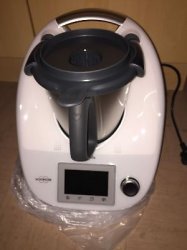 Contacts

Breem
Item description
Brand New and boxed up, never been used Thermomix TM5 including recipe cookbook and bookchip

Price Not negotiable.

Will include original purchase RECIEPT from Vorwerk

15 months warranty

blends, mixes, steams, weighs, emulsifies, grinds, stirs, whisks, chops, allows controlled heating, cooks and kneads.

- Bowl size: 2.2 l (200 ml bigger than the TM31's).

- Turbo speed is 10700 rpm (10 200 rpm in the TM31).

- 99 minutes cooking time

- Temperature increments of 5ºC.

- It reaches 120ºC which could be good for sautéeing those onions.

- Touch screen.

- It weighs while cooking.

- It has recipe chips for guided cooking, sample video here.

- It has a fully automated mode for a few recipes.

- It can also work in manual mode.

- The TM5 can be set up for the following languages: English, Australian English, Spanish, Mexican Spanish, French, Greek, Italian, Polish, Portuguese, Russian, Dutch, German and Czech. So you don't need to buy the machine in a different country if you want it in a different language.

- It comes with 3 built-in recipes: boiled rice, plain yoghurt and custard. The custard provides options for 3-4 portions or 6-8 portions and different consistencies: runny, normal or thick and creamy (crème pâtissière).